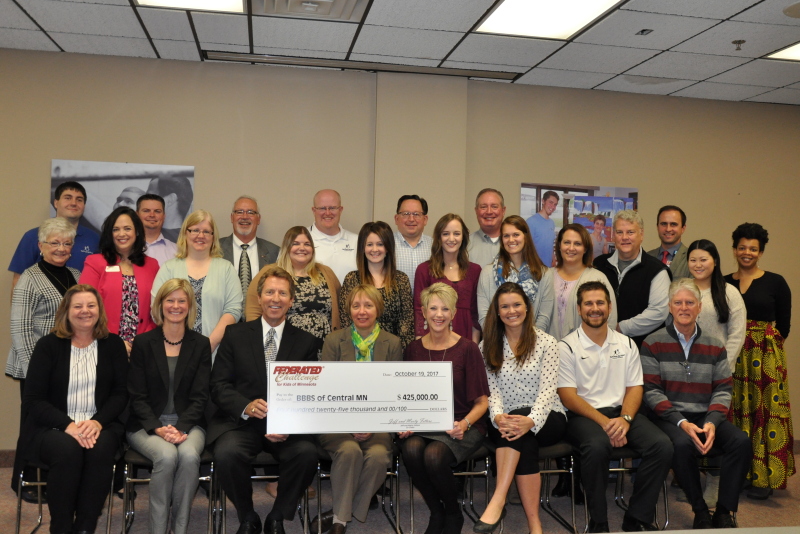 Big Brothers Big Sisters board & staff members are presented with a check for $425,000 from Federated Insurance
ST. CLOUD, MN (October 20, 2017) –
The Federated Challenge for Kids of Minnesota, headed by Federated Insurance, has a long-standing relationship with Big Brothers Big Sisters of Central Minnesota. They have a demonstrated commitment of supporting the organization and helping them carry out their mission of providing children facing adversity with strong and enduring professionally supported one-to-one relationships that change their lives for the better, forever.
Big Brothers Big Sisters of Central Minnesota, in conjunction with the two other Big Brothers Big Sisters agencies in Minnesota, serve approximately 4,000 children annually, with several hundred more waiting to be matched with a caring adult.
On the morning of October 19, Federated Insurance presented Big Brothers Big Sisters of Central Minnesota with $425,000. The support came in the form of two investments; $412,500 to support the general operations of the mentoring program and $12,500 to be used for participant scholarships.
Federated Challenge Scholarships will support qualified "Littles" and high-school "Bigs" who have participated in the Big Brothers Big Sisters program and are accepted in a non-four-year-program focused on apprenticeship, certificate, trade school, technical or community college.
"We are only able to provide our kids with life-changing mentors and opportunities because of the leadership from Federated Insurance and everyone who contributes to the Federated Challenge for Kids. We extend our deepest appreciation and gratitude to Federated Insurance for this extremely important partnership. They are partners in believing that a mentor changes the life of a child and changes the trajectory of future generations. The Federated Challenge, led by Jeff and Marty Fetters, who themselves have been a Big Couple in the program, understand the importance and incredible impact of our work. Because of their leadership, thousands of children and their families are positively impacted each year, forever" noted Jackie Johnson, Executive Director of Big Brothers Big Sisters of Central Minnesota.